URI Math Placement Exam - Frequently Asked Questions
Please read through our Frequently Asked Questions. If your question is not answered here, or you require additional help, please contact us.
I can't find my URI Student ID, can you tell me what it is?
We cannot provide your Student ID as it is a part of our authentication process. Incoming students, please consult your admissions paperwork.
I cannot log in for the placement exam, or to make a reservation. What should I do?
If you have filled out a form that looks like this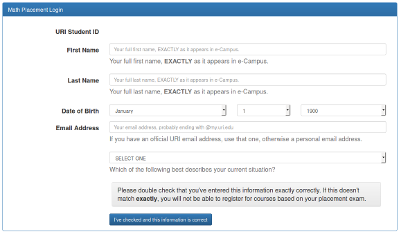 then you will receive an email once we have created your math placement account. It may take 24-48 hours for this email to arrive.
If you do not receive an email within 24-48 hours, you may have entered an incorrect Student ID, or there was a typo in your email address. Please
contact us
for assistance.
Can I transfer my placement exam results to another university, or transfer a placement exam I took elsewhere to URI?
No, our placement exam results do not transfer to or from other universities.
Contact Us
Don't see your question answered above? Click here to contact us with your question, and you should receive a prompt reply.